Lobang: https://singpromos.com/dining-restaurants-food/itea-is-offering-1-for-1-drinks-for-all-primary-and-secondary-students-from-8-9-october-2020-240571/
Special 1-for-1 deal for ALL Primary & Secondary students….read more @SINGPROMOS.COM
Lobang: https://www.moneydigest.sg/primadeli-celebrates-28th-anniversary-with-28-cakes-u-p-43-80-from-now-till-25-oct-2020/
Have a birthday celebration coming up?
In celebration of PrimaDeli's 28th Anniversary, enjoy their cakes of the week for just $28 each (U.P. $43.80)!
5 – 11 October: Blackforest Classic and Fruit Paradise
12 – 18 October: Fruit Flan and Truffle
19 – 25 October: Chocolate Fudge and Peach & Logan Delight
*Valid for in-store purchase and pre-order only. *Valid for selected 1kg cakes only.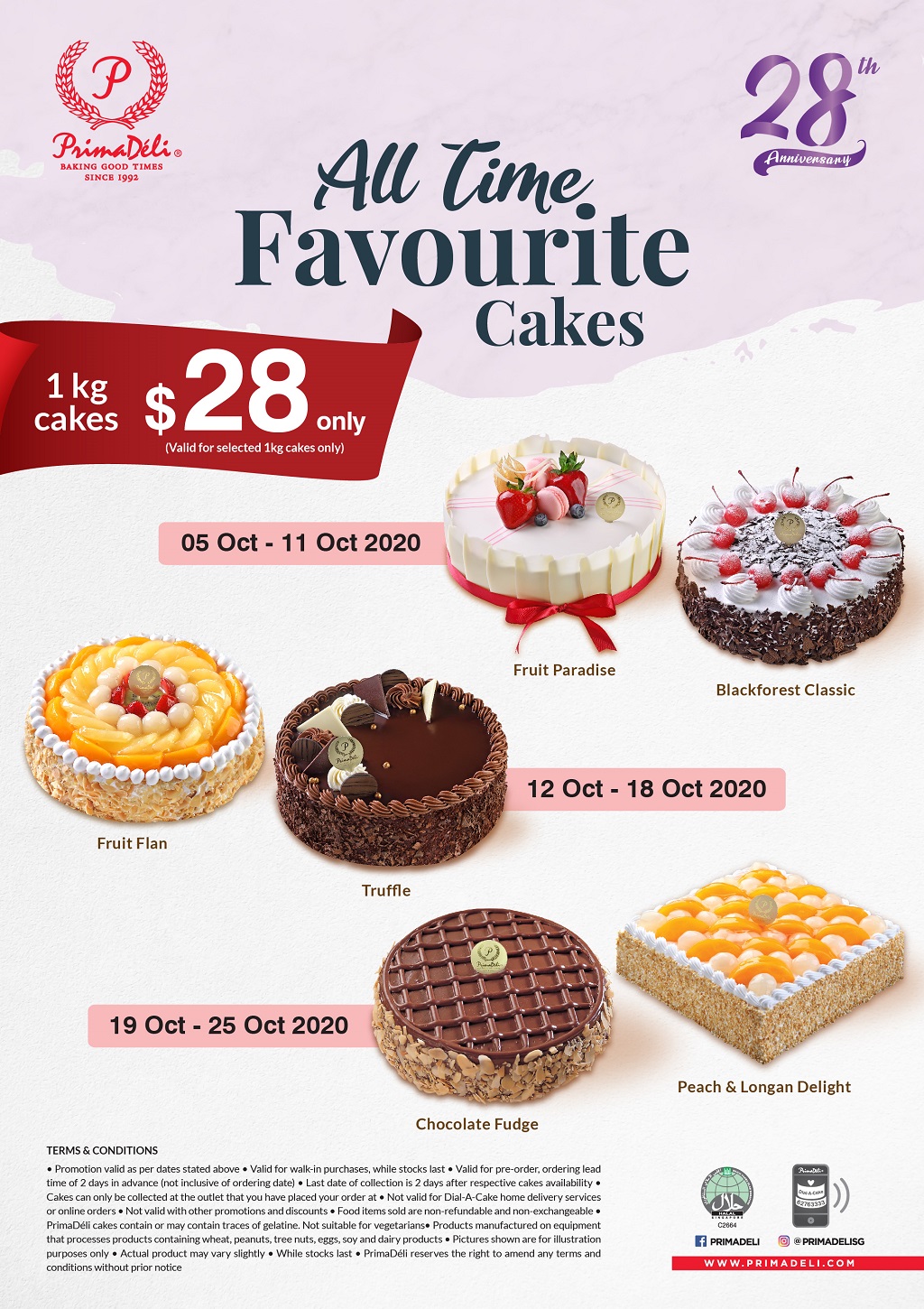 Terms & Conditions
Promotion valid as per dates stated above.
Valid for walk-in purchases, while stocks last.
Valid for pre-order, ordering lead time of 2 days in advance (not inclusive of ordering date)
Last date of collection is 2 days after respective cakes availability
Cakes can only be collected at the outlet that you have placed your order at
Not valid at Dial-A-Cake home delivery services or online orders
Not valid with other promotions and discounts
Food items sold are non-refundable and non-exchangeable
PrimaDeli cakes contain or may contain traces of gelatine. Not suitable for vegetarians
Products manufactured on equipment that processes products containing wheat, peanuts, tree nuts, eggs, soy and dairy products.
Products shown are for illustration purposes only.
Actual product may vary slightly.
While stocks last.
PrimaDeli reserves the right to amend any terms and codnitions without prior notice.
The post PrimaDeli celebrates 28th anniversary with $28 cakes (U.P. $43.80) from now till 25 Oct 2020 appeared first on MoneyDigest.sg.
Lobang: https://goodyfeed.com/bhg-promotion-renoma/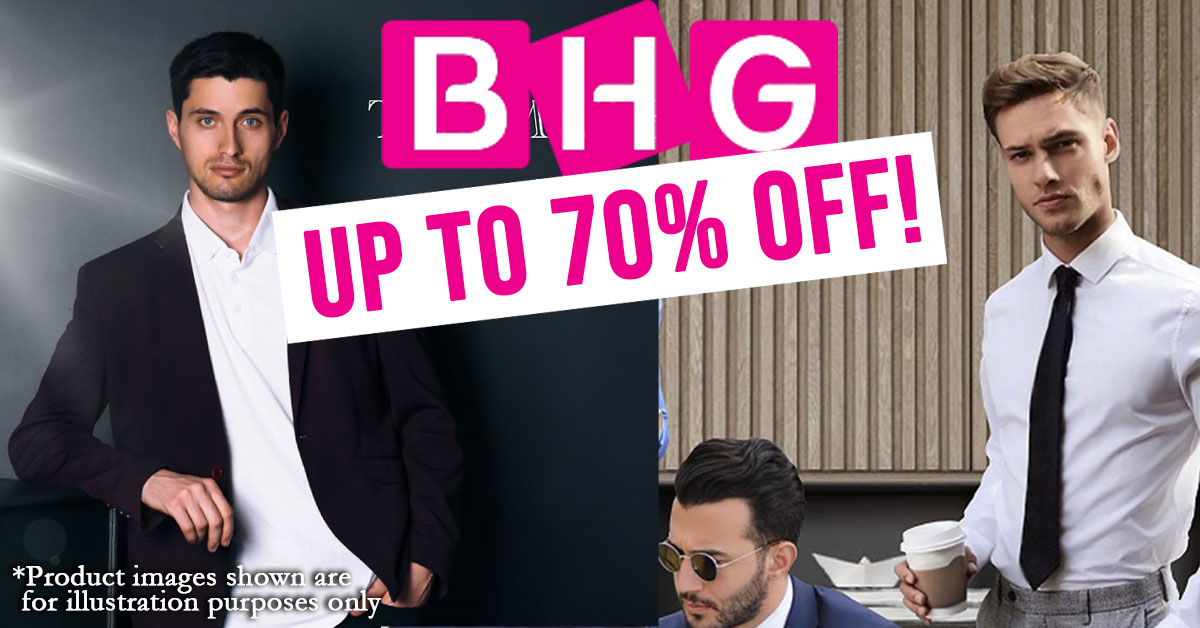 Sales. Deals. Promotions. 
Utter one of these three words in front of a Singaporean and all their senses will immediately be heightened as they sniff out the source of the deal.
This is why long queues of residents instantly appear the moment a store announces a sale, even if they're not open yet.
Scientists who've been studying this phenomenon since 1965 have come to the conclusion that Singaporeans are born with the ability to sense a promotion before it's even announced.
And if you're looking for one, you've come to the right place.
BHG Exclusive 10.10 Promotion (from 9 Oct to 11 Oct)
Even though it says 10.10, the promotion will run for three days from 9 to 11 Oct!
As part of their promotion, customers will get the following discounts:
$10 off with $100 nett spend*
$25 off with $200 nett spend*
*Exclusion + terms and conditions apply
Considering the high-quality of BHG products, this is a deal you simply can't pass up.
But other than these discounts, are there any additional sales?
Yes.
In fact, the promotion will start even earlier.
Up to 70% Off Renoma & Thomas Smith in BHG Exclusive 10.10 Promotion (From 5 Oct to 11 Oct)
Do you have shirts with more holes than your cheese grater?
Want to look smart and stylish when you return to your workplace?
Well, you'll be happy to learn that BHG is having a 10.10 promotion for its clothing products, this will start from 5 October instead!
Renoma 
You might know Renoma as the brand that sells the most comfortable underwear out there, but they also have an extensive array of apparel and numerous other fashion products.
Established 40 years ago, Renoma is now an internationally-renowned brand recognized in more than 25 countries from Europe to Asia and the Asia-Pacific region.
Need a classy-looking shirt for that Tinder date you have coming up? Well, drape one of these on your body and you'll be sure to impress.
Originally at $99.90, you can now get these beautiful long-sleeved shirts for merely $39.
The range is exclusive and this promotion is only valid in BHG Bugis, Bishan and Jurong.
BHG is also selling Renoma short-sleeve T-shirts, in case you want to go for something a little more casual.
These are going at a mere $10 per piece and is limited to 250 pieces per store. This is only available in BHG Bugis and Jurong.
Of course, more colours are available in-store!
Thomas Smith
If you're a fan of Renoma then you'll probably like Thomas Smith, another acclaimed shirt maker on offer during BHG's 10.10 promotion.
More of a short-sleeve shirt kind of person? Thomas Smith has some snazzy looking shirts that will certainly turn heads.
Originally at $89.90, this can be yours for $25. This collection is exclusive to BHG, and the promotion is only available in BHG Bugis, Bishan and Jurong.
These are not the only designs; there are more available in-store!
While Thomas Smith primarily sells shirts, the brand also has Polo T-shirts, belts, and other fashion products on offer.
But that's not all.
More Promotions
If you're in a BHG store and realised you want to buy more than these promotional items from Renoma and Thomas Smith, fret not; during this promotional period, you can enjoy 30% off + Additional 10% off + Further 10% off Regular Items!
And as for sales items mentioned above (Renoma and Thomas Smith shirts), there's an additional 10% off + further 10% off!
This promotion, however, isn't valid on the $10 Renoma T-Shirts, and exclusions, terms and conditions apply.
Over the years, BHG has garnered a reputation for selling exclusive designer quality merchandise at affordable prices and bringing international brands to shoppers in Singapore.
BHG currently operates five stores across the country, so you won't have to travel too far to get your hands on some of their quality apparel.
Remember to mark 9 to 11 Oct (or 5 Oct to 11 Oct if you're eyeing some Renoma & Thomas Smith shirts) down on your calendars before you forget about this lovely promotion.
You should head down there early, as the promotion is on a while stocks last basis.
With Christmas just a few months away, why not get your shopping done early?
This article was first published on Goody Feed and written in collaboration with BHG Singapore.
The post Don't Say Bojio: Up to 70% Off Renoma & Thomas Smith Shirts in BHG Exclusive 10.10 Promotion appeared first on Goody Feed.